Work Experience at Durham Cathedral
Thursday 12 February 2015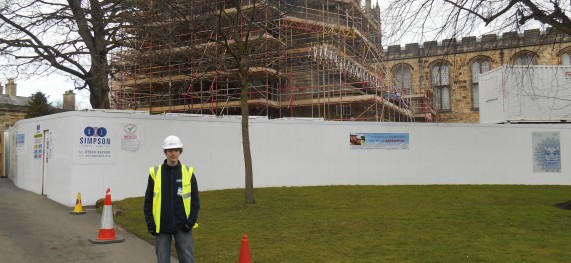 SIMPSON is passionate about investing in the local communities they work in and we are currently showcasing this on our current Durham Cathedral project.
Over the next two weeks SIMPSON have welcomed to their site based construction team, Construction Management trainees James and Phillip.
During their experience James and Phillip, will shadow Site Manager Ian Bartlett, learning the skills and methods of on-site construction.  Following a thorough Health & Safety induction both James and Phillip successfully obtained their Construction Skills Certification Scheme Card.
SIMPSON are currently on the second phase of the multi-phase development, having successfully completed the first phase, creating the new Cathedral shop in the West Undercroft.     The current project will see the Monks Dormitory sensitively refurbished by our site team and skilled in-house joinery craftsmen, creating new accessible access to the long oak-beamed room – one of the most spectacular English medieval halls.
John Holmes, Head of Property at Durham Cathedral "We are delighted to be welcoming two new apprentices to the site here at what is an exciting time for everybody as we move our Open Treasure project forwards.  The Cathedral has a long-standing tradition of taking on apprentices itself and indeed some of our own senior team members who work here today, started off as young apprentices working on this wonderful building.  It is wonderful to see that our contractor SIMPSON shares this ethos and we hope that the chance to work on this unique and world famous building inspires these young men in their careers going forwards."
Back to all news