BIM Exemplar and BIM Champion Programme
Friday 27 February 2015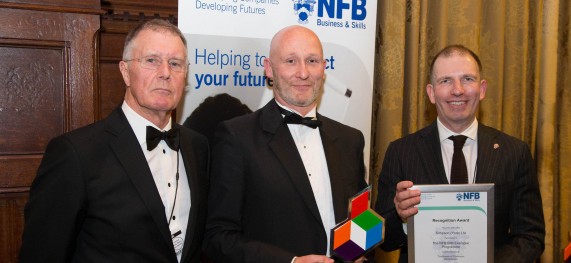 Phil Mason, Best Practice Manager at SIMPSON enrolled on a three year, Building Information Modelling (BIM) Exemplar programme along with 16 other companies.
During this time on behalf of SIMPSON, Phil has worked with a National Federation of Builders Adviser to assess our BIM maturity, in relation to the 2016 mandate, and implement a structured programme to develop our understanding of BIM and apply this to benefit SIMPSON going forward.
Phil attended the prestigious Ceremony held at the House of Commons on Monday 16 February to receive the recognition awards and certificate, presented by the footballing legend Sir Geoff Hurst MBE.
Alongside the BIM Exemplar programme, Phil took part in the five month BIM Champion programme, working towards becoming BIM ready in advance of 2016.
This programme has enabled Phil to gain the skills to influence the strategic direction of SIMPSON , implement change in response to the challenge of BIM and map our processes against best practice.
This course has allowed SIMPSON to develop a greater awareness and understanding of BIM, leading to the development of a BIM Strategy.