Success at the North York Moors National Park Authority Design Awards 2018
Tuesday 23 October 2018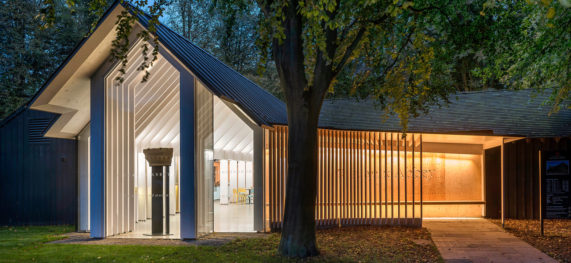 On 18th October, our Contracts Manager, Andrew Pollintine, accepted the 'Best Non-Residential Development' award, on behalf of SIMPSON, for our Rievaulx Abbey Visitors' Centre project.
This award recognises the excellent work undertaken by our internal and Subcontract teams, both on and off site.
The new Visitors' Centre and Café provides modern facilities, at this English Heritage site, whilst complementing the surroundings through the reuse of original materials within the new structure.
This award is thoroughly deserved by all of the team and it is great to receive recognition of all the teamwork and craftsmanship.
The display areas created by SIMPSON allow previously unseen artefacts to go on display.  These include exhibits of elaborate medieval stone carvings, chess pieces and gold coins.
Rievaulx Abbey was the first Cistercian Abbey in the North of England and has a dramatic story from it's foundations is 1132, through the suppression in the 16th century and on to the preservation in the 20th century.  The new facilities allow visitors to get a greater sense of what this Abbey used to be in its heyday.
To find out more about the works undertaken at Rievaulx Abbey, please click here.
Back to all news