SIMPSON support – Step Up Into Construction
Tuesday 6 September 2016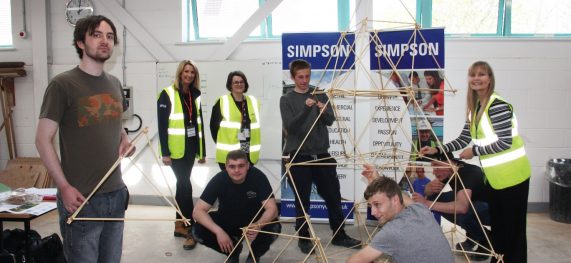 The Step Up into Construction project is funded by the European Structural Investment Fund and the Construction Industry Training Board (CITB) and aims to support unemployed people into construction careers.
Chris Hull joined the Step up into Construction programme in April 2016.  Chris is from York, he has a young family and felt it was time to get his career started.  After leaving college before he had completed his full joinery qualification over 10 years ago.  Once Chris left college he went onto window cleaning for many years with most recently becoming unemployed for over 5 months before joining the Step up into Construction Programme.
Whilst on the programme Chris had the opportunity to take part on a tetrahedron construction activity supported by SIMPSON (York) Limited.  SIMPSON attended York college to talk to the Step up into Construction students about the realities of working in the construction sector.  This session gave some invaluable advice and guidance on searching effectively for employment in the construction industry, writing a winning CV and interview techniques.
Along with the rest of his group, Chris visited a local SIMPSON Project Springfield Healthcare at the old Terry Chocolate Site.
SIMPSON were so impressed with Chris's enthusiasm and attitude, that when he completed the 6-week programme at the end of May 2016, he was offered the opportunity to complete two weeks work experience.  Following completion of the two weeks work experience he was offered a 12 month, full time Joinery position with SIMPSON acting as work placement/mentors, as part of the Heritage Lottery Funded 'Re-Making Leeds' project.
Chris says "This programme has given me the opportunity to re-assess my longer term goals and look at ways to restart my career in the construction industry.  As well as refreshing my construction craft skills the programme has introduced me to employers within the industry and I am really pleased to have been supported into a full time opportunity by SIMPSON". 
Back to all news