Marks & Spencer Café – Derby Intu Centre
Thursday 28 June 2018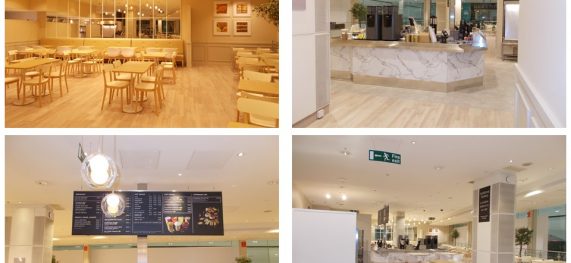 SIMPSON have recently completed the refurbishment and modernisation of the existing Marks & Spencer Café at the Intu Centre in Derby.
The refurbishment has transformed the look of the café by incorporating Marks & Spencer's latest design within the store. Distinctive elements were included within the fit out, for instance feature pendant lighting and two olive trees, to ensure Marks & Spencer's unique servicescape resonates throughout.
The store has also been fitted with enhanced features for increase efficiency for both staff and customers including new push-button coffee machines, additional high speed ovens, a self-clearing station, a hot pass and table tracking for effective food to table service.
The works included:
Strip out and removal of the existing S Counter
Installation of Coffee Pod
Application of panelling to the perimeter area
Refurbishment of banquet seating
Remodelling of café entrance
Removal of existing floor finishes
Installation of new floor finishes
Decoration throughout
Installation of new mirror wall
The café has now opened to the public, with our teams work receiving praise from customers, staff and management alike.
"This week we launched our fully refurbished café in Derby Intu. The café has been transformed and fully refurbished with our latest design and efficiency features. We look forward to seeing great things from the team and wish them all the best in their new café."

David Condliffe, M&S Hospitality Project Manager
Back to all news