Happy Retirement Mike
Thursday 30 April 2015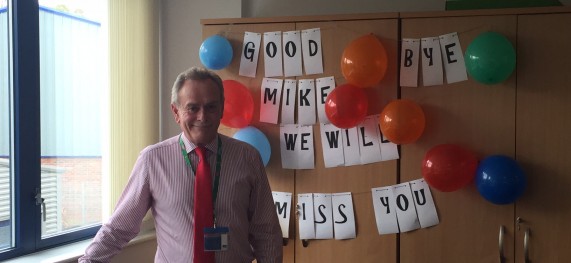 SIMPSON today saw Mike Atkin, Senior Quantity Surveyor retire after 14 years working with the SIMPSON team.
Mike has been a fundamental member to the team throughout his time at SIMPSON, working on prestigious Construction projects throughout North Yorkshire some of which included:
Walkington Hall
Durham Cathedral – Phase 1 and 2
Private residence in North Yorkshire
Holy Child of Jesus Convent
Bishopthorpe Palace
Burngreave Vestry Hall
Before Mike left we asked him a few questions about his time at SIMPSON and what his plans are for the future:
What has been your favorite project whilst working at SIMPSON and why?
"My favorite project whilst working at SIMPSON has to be Walkington Hall.  The team on the project worked together with a great enthusiasm for completing this quality project."
What has been your funniest moment at SIMPSON ?
"This would probably have been when Ray Thompson and myself traveled to South Wales to look at a new project for a Client, with the brief being this is a major new concept / project.  We walked around for over an hour and half to finally be pointed in the right direction to find the project consisted of a 8 foot square glass box requiring a few new shelves"
Who are you going to miss the most and why?
"I have worked with a great team of people here at SIMPSON, I remember going home on my first day and saying I have never met a friendlier bunch of people.  But I will have to say that I will miss working with Mark Cregan, Neil Moss and Chris Gatenby, we have worked together as a great team over the years and that connection is hard to find."
What are your plans for the future?
"I am going to continue my passion for travelling, I would like to go back to India and I already have a trip planned to Australia towards the end of the year.  I will also look to do some voluntary work within my local community and spend more time with my family and friends."
Back to all news