43/50 for Considerate Constructors
Wednesday 10 June 2015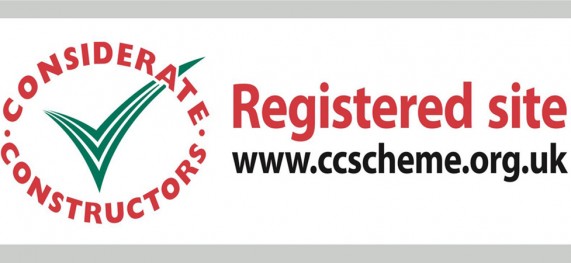 SIMPSON was delighted to have achieved 43/50 on our recent Site monitors visit with the Considerate Constructors Scheme at Durham Cathedral.
SIMPSON are currently on site undertaking Phase 1b, carrying out the refurbishment and redevelopment works to the vestry areas within Durham Cathedral.  With the works including:
Refurbishment of the existing Monks Dormitory, Great Kitchen and Covey to create walk through gallery viewing space for members of public and staff incorporating improvements to access into these areas with staircase and DDA compliant access lift provisions.
Construction of a new access gallery link with a mechanical fit out that achieves suitable close controlled air conditioning exhibition space.
Extensive conservation stonework repairs and re-pointing to the external facades of the building and conservation treatments to the timber roof structure of the Monks Dormitory.
The monitor's comments following the visit gave high praise for the effort and commitment continually made by the site based team and Considerate Constructors Scheme Ambassadors at Head office.
 "The site continues to present exceptional standards of appearance which is fully in keeping with its location.  Copies of the newsletters are now available from a letter box located on the hoarding, proving invaluable information for the visitors to the Cathedral who show a lot of interest in what is going on, allowing them to provide feedback and suggestion forms, with a lot of positive feedback received. 
The company has joined a national KPI scheme which will enable it to benchmark energy and water usage,  Donations of hardwood off cuts to a local college not only minimises waste, it provides valuable materials for its joinery workshop, which also has benefited from sponsorship, and a model house for practical training. 
Safety remains a high priority; welfare has been enhanced by additional canteens and lockers. 
The company's receipt of a CIOB Corporate Social Responsibility Award is a testament to its passion for investing in the local communities it works in.  On this site, the extent of involvement with the local colleges and schools and the work opportunities offered are exceptional. "
SIMPSON is committed to making a difference where we work and look to be actively involved with the surrounding Local Communities.
If we are working near you and would like to find out more, please contact Amanda Davidson or Stephanie Burns on 01904 562 400.
Back to all news