2019 Considerate Constructors Scheme Bronze Award Winners
Monday 1 April 2019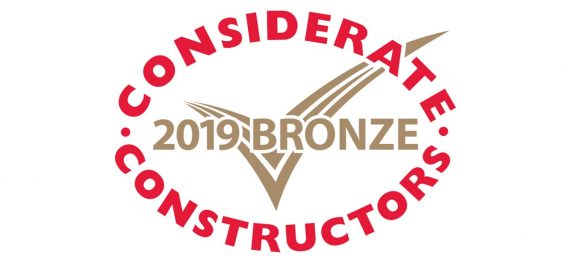 On Tuesday 26th March we received a CCS Bronze Award for our site on Harcourt Road in Harrogate.
Since August last year, we have undertaken various phases of works for Springfield Healthcare which have included the demolition of 6 existing buildings and ground remediation works.
Our Project Team have engaged with the local residents and the community in order to create a positive impact, and to demonstrate an outstanding image of the construction industry.
Sites are scored on Appearance, Community, Environment, Safety and Workforce. Upon receiving a site visit from the Considerate Constructors Scheme, we were very pleased to have received an 8 'Excellent' in all 5 categories.
We would like to thank the whole team for their hard work in achieving a great score which has resulted in receiving this award. Well done to everyone involved.
Back to all news