Civic Trust AABC Conservation Award Winner
Monday 11 March 2019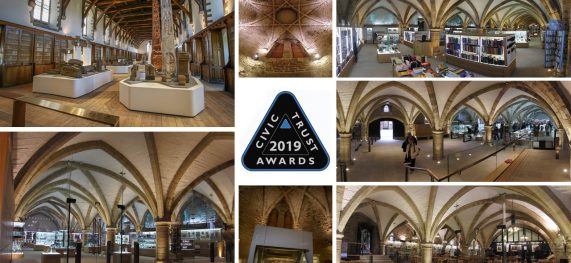 We are thrilled to announce that Durham Cathedral Open Treasures has won a Civic Trust AABC Conservation Award.
The Civic Trust Awards recognise outstanding architecture, planning and design, and the 2019 winners were announced on Friday 1st March.  The aim of the awards is to reward projects that offer the local community a positive cultural, social, economic or environmental benefit.  Involvement from the general public is paramount throughout the judging process.
The aim of the Open Treasures project was to create a more accessible public area to display the cathedral's hidden treasures, as well as the 'Treasures of St Cuthbert' collection.  The project also included the creation of new retail space within the cathedral, as well as improved restaurant facilities.
Fundamental to the success of the project was ensuring that the newly created areas complemented the traditional aesthetic of the cathedral, whilst also successfully incorporating a range of traditional refurbishment techniques to enhance the original building.
Many congratulations to everyone who contributed towards the success of this outstanding project.
Back to all news