Westminster Place Auctions Historic Statues
Tuesday 7 May 2019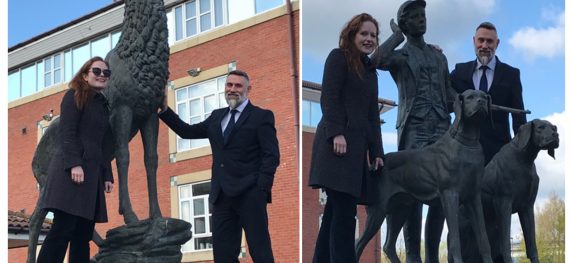 SIMPSON are currently working at Westminster Business park for Commercial Estates Group, carrying out the refurbishment to the existing café and landscaping works to the courtyard.
CEG has been working closely with a local homeless Charity Safe and Sound Homes (SASH), successfully raising £2000, and are again fundraising for this important cause. Tim Whitley, Building Manager at Westminster Place, has been working again with tenants at the Poppleton Business Park to fund-raise and is now organising an auction with Wombells Antiques and Fine Art Auctioneers to sell the two 'Monarch of the Glen' style statues which have formed an integral part of this outer ring road business destination for many years.
Tim explains: "The improvements to the existing café, to provide a refurbished amenity for the tenants, cycle store, garden and outdoor seating, mean we now need a new home for the stag and hunter statues."
The auction will be held on Saturday 11th May at 10am at Wombells on Glaisdale Road, Northminster Business Park, Upper Poppleton. The statues can be viewed online from Wednesday 8th May and are available to view 0n Friday 10th May at Wombells or on the website wombells.co.uk. Telephone bids can be made on the day of the auction on 01904 790777.
Back to all news