Virgin Money lounge opens in unique venue in Cardiff
Thursday 7 June 2018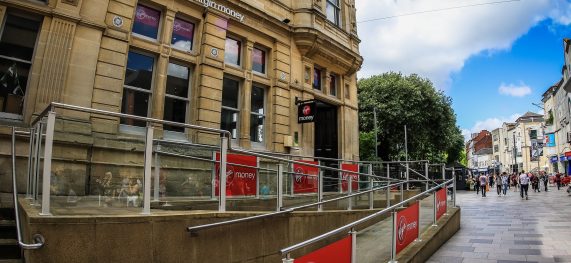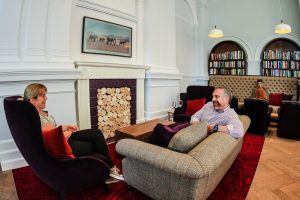 SIMPSON's most recent project for Virgin Money in Cardiff has now launched and the city has been wowed by the luxury banking facility.
The newly created Virgin Money Lounge is situated within the stunning former Cardiff City building and offers a unique banking experience at Trinity Square in Cardiff City Centre.
The newly created Cardiff Lounge incorporates an outdoor terrace, community room and children's play area, which all encourage the Virgin Money mantra of providing a comfortable place for all the local community. A Library has also been created within a quieter floor as recognition to the building's former use. Furthermore, housed within the bank is a bar area with complementary soft drink and refreshments.
Within the works, a full mechanical & electrical installation was undertaken, as well as the incorporating multiple digital aspects including iPads and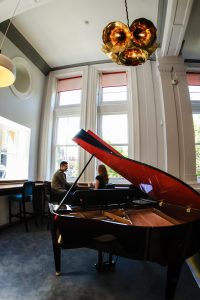 televisions.
A floor feature was also created to be featured within the bank and was designed using only one-pence pieces. The feature compliments the historic features within the building and ensures that this lounge has stand-out aspects to give a truly unique feel.
Virgin Money are renowned for creating unique concept banks that are interesting and stimulating to customers and SIMPSON have been delighted to have worked on a number of Virgin Money projects over the years. Click here to learn more about these projects.
"We are delighted to open our eighth Virgin Money Lounge in Cardiff. It's situated in one of the most historic buildings in the city and we can't wait to open the doors and welcome everyone. As well as being a fantastic space for our customers, our Lounges in other cities have proved to be a huge hit with local charities and communities. We look forward to hearing about all of the exciting initiatives they have planned for Cardiff and the surrounding area."

Jayne-Anne Gadhia, Virgin Money Chief Executive
To understand more about what this Virgin Money Lounge can offer, please click here
Back to all news