Supporting Apprenticeship Opportunities
Wednesday 22 February 2017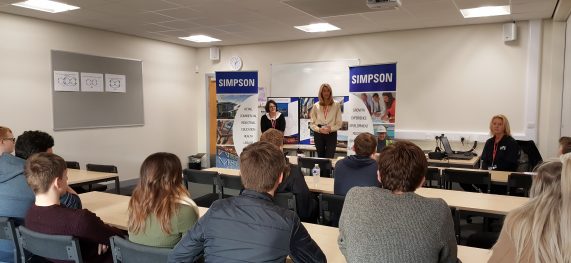 SIMPSON in partnership with North Yorkshire Construction Training Group will be presenting at the York College Construction Business Breakfast (9 March) and Leeds Beckett University Employment Opportunities Seminar (15 March), showing our support for National Apprenticeship Week which takes place for 6 to 10 March.
Amanda Davidson, HR Advisor at SIMPSON, will be sharing her knowledge and experience gained over 15 years in the construction industry, of supporting Apprentices and Higher Education Graduate trainee programmes, and promoting the advantages of work based learning.
SIMPSON strongly believe that offering apprenticeships enhances the business both internally and externally bringing to the workforce enthusiastic talent with fresh ideas.  Not only does SIMPSON see the advantages for Apprentices, who get great mentoring and support in developing their skills, but also for our existing employees who enjoy coaching and mentoring young members of staff.
People are an integral part of our vision at SIMPSON, and a key part of our core values is continuing to build on the reputation for quality work whilst treating people correctly and fairly and ultimately being the "Employer of Choice".
SIMPSON believe that promoting Apprenticeships helps promote the construction industry and the wide variety of jobs available, showcasing a commitment to sustainable and diverse recruitment, providing a skilled workforce matched to the company's future needs.
SIMPSON place a great emphasis on supporting those who wish to join our industry by offering work experience placements, with opportunities ranging from two week placements through to full time employment.
Back to all news