Students visit SIMPSON site
Tuesday 20 November 2018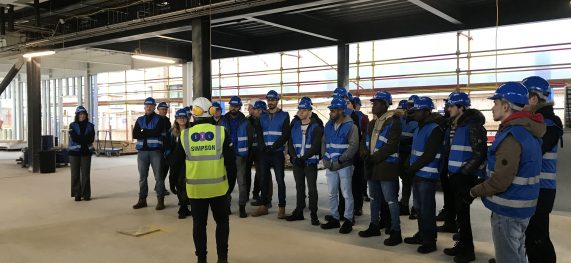 To see a visual overview of this visit, please click here
On the 7th November, 50 students and 3 lecturers from the University of Derby visited our Moxy Hotel site in York's city centre. The focus of the day was to enlighten the students about modern construction methods, the challenges that can be faced when working in a built-up environment and the importance of understanding archaeology on site.
Our visitors were given a full guided tour around the construction site and our Project Manager, Phil Rhodes, described the different modular build and traditional construction methods. They were also given insight in to the unique construction elements, such as a timber lift shaft, and the processes that have made this possible. Phil also explained the difficulties of working in a confined area as this site is surrounded by residential, commercial and leisure properties. Many of the contractors on site have had to adapt to this working environment, with SIMPSON site management facilitating this through sharing their experience and expertise.
Ben Reeves of York Archaeological Trust also shared his knowledge with the students, regarding the site's history and its former use as a Medieval Church. Ben explained how this could have affected the original design of the hotel due to the location of the church walls. He also described the measures undertaken to ensure the original design could be implemented, therefore mitigating additional costs to the Client, whilst also preserving the archaeology. Ben also expressed the importance of being proactive with site archaeology in order to remove any issues and potential programme delays, as well as the positive impact archaeology can have within the Construction Industry.
Out HR Manager, Amanda Davidson, also gave insight in to how the students can stand out during the recruitment process, and the varying career possibilities within the construction industry.
The feedback we received from both the students and lecturers was very positive, with particular emphasis from the students on the modular build, archaeology and the career advice. The lecturers explained how important it is for the students to witness the modern methods of construction and the ways in which the visit can be implemented in to their future studies.
Back to all news