Simpson Update (4.5.2020) – CORONAVIRUS(COVID-19)
Tuesday 5 May 2020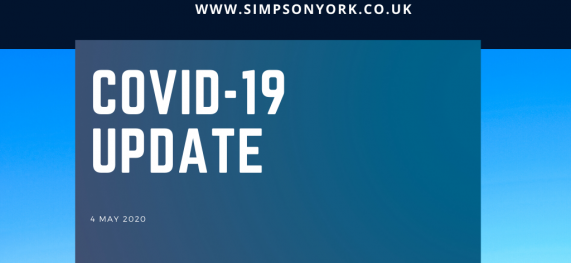 COVID-19 SIMPSON UPDATE
We wanted to take this opportunity to keep you informed of the latest steps we have taken, following the UK Governments most recent guidelines.
Following the release of the Construction Leadership Councils, Site operating Procedures (SoP) version 3, we have risk assessed our operations and in conjunction with our clients and supply chain partners, we have actioned a phased re-commencement of our onsite activity. Our office remains open for essential business activity. However, the majority of our office teams continue to work remotely from home.
The health and wellbeing of our colleagues, supply chain partners, clients and their respective teams, remains our priority. Our senior management team will continue to monitor and respond to the Government's advice and recommendations, and any further changes to the CLC's COVID-19 related SoP.
We are fully committed to ensuring our business continues in light of the current challenges and should you need to contact us, please do so, by using any one of the emergency contacts below:
• Neil Silcock – 07711236472
• Andrew Gatenby – 07801 186659
• Enquiries@simpsonyork.co.uk
We would like to take this opportunity to wish you all, the best of health over the coming weeks.
Neil Silcock
Managing Director
Back to all news