Simpson Update (26.03.20) – CORONAVIRUS (COVID-19)
Tuesday 21 April 2020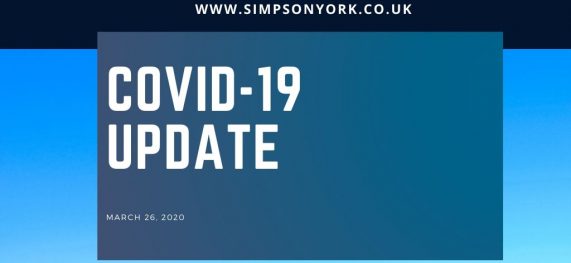 COVID-19 SIMPSON UPDATE
We wanted to take this opportunity to keep you informed of the next steps we have taken following the UK Governments latest announcement.
The Health & Well Being of all our Colleagues, Clients and the supply chain is paramount, therefore following The Governments advice to work from home and social distancing, we have now temporarily closed our office & sites until further notice.
We will react to any essential work requirements due to either Health & Safety issues or works required to support our food retail clients and the Health service. Our office-based teams will now be working from home and are still fully operational and contactable.
Our Senior Management will continue to review the situation and we will continue to monitor and respond to the Government advice and recommendations in relation to Coronavirus COVID-19.
At Simpson we are fully committed to ensuring we do everything we can to ensure our business continues in light of the current challenges faced with (COVID-19), and should you need to contact Simpson please use one of the emergency contact details below:
•   Neil Silcock – 07711 236472
•   Andrew Gatenby – 07801 186659
•   Enquiries@simpsonyork.co.uk
We would like to take this opportunity to wish our clients, supply chain and colleagues the best health over the coming weeks.
Neil Silcock
Managing Director
Back to all news