SIMPSON and the Industry leaders support Construction careers event
Tuesday 15 July 2014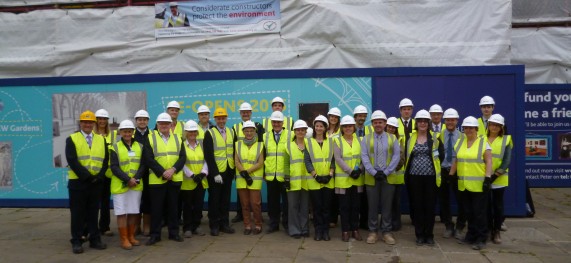 Some of the construction Industry's most senior figures supported a York event to encourage young people to think about a career in the construction industry.

Adrian Belton, CEO if the Construction Industry Training Board (CITB), joined representatives from City of York Council, SIMPSON, ARUP and Walker Nicholas to support a free one day event on Friday 27 June, designed to raise awareness of Construction and the Built Environment and the various routes into the industry.

The event was aimed at careers advisers and teachers, with a total of 17 attending the day where they got a chance to explore the wide range of careers in the industry and the routes and progression into them, with a particular focus on trade and technical apprenticeships.
The event included a visit to a live SIMPSON construction site at York Art Gallery, which is managed by the independent charitable organisation York Museums Trust.
Following the successful day the following quote was received from Denise Bennett, Head of Careers, St Aidans Church of England High School
"The whole day was very informative, interesting and provided so much relevant and practical information on careers in construction. You had some wonderful speakers who have a real insight into the opportunities in construction at all levels.
This type of engagement with employers really does help to inform and enhance the work we do with students in school to provide them with realistic advice and guidance on their career options and can help towards tackling skills shortages.
I particularly enjoyed the visit to the York Art Gallery and SIMPSON were so accommodating in showing us around the site. I am really looking forward to visiting the gallery when it opens to the public"

SIMPSON are always willing to help support schools with careers days and events. Should you wish to talk to a SIMPSON representative please contact Amanda Davidson on 01904 562 426.
Back to all news