SIMPSON completed the refurbishment and fit out of the existing Oxford Library building located within the new Westgate Oxford Development.
The Library is split over four floors, with the main elements of the refurbishment carried out on the first and second floor.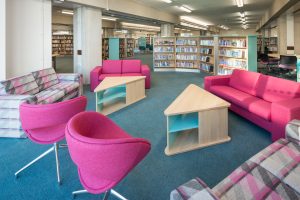 The scope of works consisted of the strip out of existing finishes, fixtures and fittings, demolition of existing internal walls and doors, new internal walls and doors, new floors , ceilings and wall finishes.
To find out more about the project, please contact Stephanie O'Bee on Stephanie.obee@simpsonyork.co.uk
Back to top