Two Local Charities receive Donations
Tuesday 11 October 2022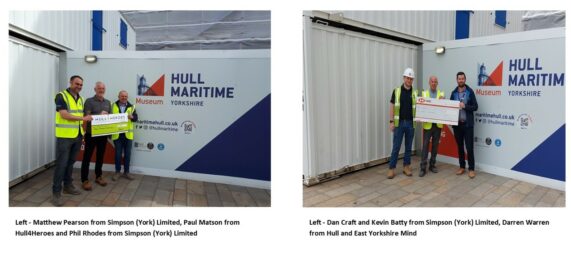 Two local charities have received donations totalling more than £5,000 from the Scrap metal collected from our current site in Hull, The Hull Maritime Museum.
The proceeds have been shared between Hull4Heroes and Mind Hull and East Yorkshire.  These donations were made possible through the recycling and rescale of scrap metal from the museum.
The monies raised by the reclamation of existing features and fittings that were not part of the restoration process, anf thus used for the good of local charities and to give back to the local community.
Counciller Mike Ross, Leader of Hull City Council, said "Converting the scrap metal waste from the Maritime Museum into money for local charities and businesses is a great initative by Simpson.  The Scheme benefits local communities, giving something back to those who do incredible work, offering vital support to those who need it."
Paul Matson from Hull4Heroes, said "Simpson gifted our charity £3,000, this will make a huge difference to veterans in the local area, the amount of funds we received was a great surprise and a very welcome releif, without the generosity of local people and local companies we would struggle to survive, that you so much to all at Simpson"
Dan Warren, Director of Development at Hull and East Yorkshire Mind said "We were delighted to receive the generous donation from Simpson.  As a local charity we are amazed by the generosity of our supporters, who provide us funds to help work with local people when they need it most.  We have seen a substantial increase in the number of people acessing our services and as such we continue to seek supporters to help us match that need".
Back to all news