SIMPSON welcomes new Apprentices
Thursday 5 December 2013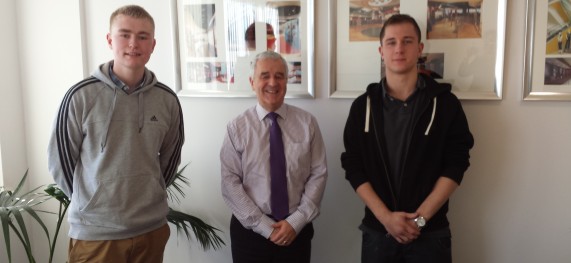 Ron Gatenby SIMPSON Chairman & Chief Executive, was pleased to welcome 2 new apprentices to the business; Jack Walters and Matty Hodgson.
Jack will be joining our team in the Joiners Shop, training as a wood machinist.  He will be working alongside our team of 3 experienced machinists, and will be mentored by Mike Ancliffe our works foreman.  Jack will be attending Leeds College of Building to further grow his knowledge of his specialist trade.
Matty will be joining our local construction team as an apprentice site joiner.  His first site is at our exciting new project at the Art Gallery in the centre of York, where he will be developing his new trade skills under the guidance of his mentor and Site Manager Phil Rhodes, and his team.  Matty will attend York College where he will be gaining both practical and academic knowledge to enable to succeed in his chosen career.
Back to all news