SIMPSON completed the Internal fit out of the new Social area within the new £440 million, 800,000 sq. ft. Westgate Oxford Shopping centre, the new retail and leisure destination in the centre of Oxford.
The works included the management of the Kiosk fit out team, Mechanical, Electrical and Sprinkler installation, plumbing and sanitary works, partition walls, ceilings, ceramic wall and floor coverings.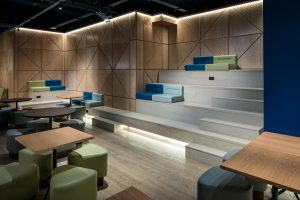 SIMPSON Bespoke Manufacturing department, made and installed: sit up benches, community tables female and male vanity units and mirrors, oak column backlit signage boxes, bronze wall panelling and curved seating..
Back to top