Nestle Multi Million Pound Office Refurbishment
Thursday 26 April 2018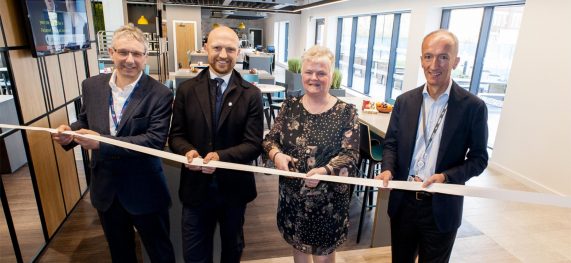 SIMPSON has successfully handed over to Nestle the £3 million upgrade to its York Head Office showcasing a brand new reception, restaurant and meeting area.
On Wednesday 25 April Stefano Agostini Nestle CEO, Matt Dawson Former England Rugby star, Alex Hayter of Sodexo UK and Sharon Morris Long standing Nestle Employee opened the new office.
The work, which began in 2017, has taken nine months to complete and transform the entire ground floor of Nestle House, York, which is also home to its Confectionery head office previously completed by SIMPSON.  Despite some unseasonal March snow and work needing to be undertaken around the normal working day of a very busy office, the project was completed on time and to budget.
Ron Gatenby, Chairman and CEO, said: "It has been a pleasure to deliver this exciting project and achieve such a dramatic transformation which we feel sure will be appreciated and enjoyed by all of the Nestle team on site using the facilities created."
Back to all news