HSQE Award Announcement
Thursday 24 October 2019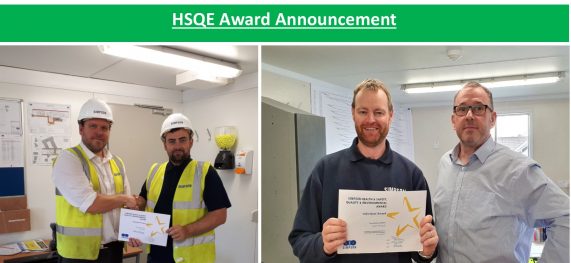 Congratulations to Paul Duck and Scott Turnbull, who are the winners of the Simpson HSQE Award.
Paul Duck – In recognition of Paul's recent efforts on our Springfield Healthcare Project in Harrogate, Paul received the award for his proactive attitude towards health and safety, his quick response to closing out HSQE/senior management inspections and excellent record keeping on CUBE.
Scott Turnbull– In recognition of Scott's efforts on the Cineworld framework at Rushden, Plymouth and at York. This award has been given to Scott for his efforts in implementing HSQE process and procedures onsite to assist with the overall management and delivery of the projects and for his implementation of performance scoring leagues to assist with elevating the level of contribution to health and safety performance and risk management from our key sub-contractors working onsite.
Back to all news