Clifford's Tower shortlisted for Yorkshire & Humber Constructing Excellence Award
Friday 10 June 2022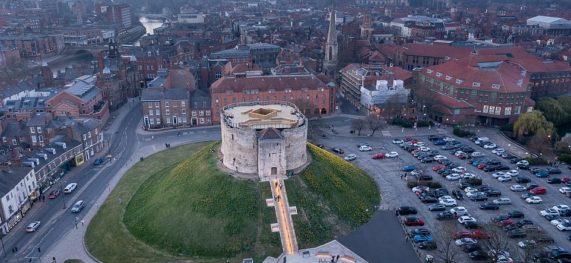 The award recognises projects that have delivered excellent outcomes and high standards of repair, re-use and revitilisation of heritage sites and buildings in the region.
Clifford's Tower, standing on a tall earthen mound, is the largest surviving structure from the medieval royal castle of York. The stone tower was built in the mid-13th century, but has stood as a roofless ruin since a fire in 1684. The Tower sits next to three Grade 1 listed buildings grouped around the Eye of York. One of English Heritage's most visited buildings, the tower is an evocative survival from the medieval castle and offers superb views over the city.
The Tower has now become more accessible enhancing the visitor experience, providing a new interpretation of the tower and its history, whilst conserving and repairing the tower for future generations with a new 'inspiring and sensitively' designed structure.
Due to the challenges of both the site location and the dilapidated condition of the Tower, the works were split into two phases; phase 1 – Conservation and repair works, phase 2, construction work incorporating the Glulam Beams, roof deck and floating staircases.
For more information on this project and award contact Stephanie O'Bee on stephanie.obee@simpsonyork.co.uk
Back to all news