Thursday 26 September 2019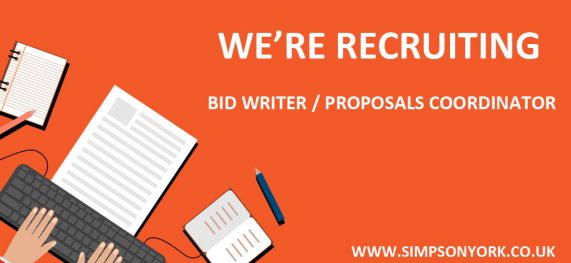 SIMPSON is looking to recruit a Bid Writer / Proposals Coordinator at our busy Head office in York.
Role
Supporting the Pre-Construction Manager, the Bid Writer/Proposals Coordinator will produce professionally written responses and proposals content for Expressions of Interest, Pre-Qualification Questionnaires/Selection Questionnaires, Interview Presentations and Tender Proposals.
The role requires an ability to work under pressure and to demanding deadlines.
Experience
Proven skills in producing and editing proposals content. The Bid Writer/Proposals Coordinator will be experienced in leading storyboarding sessions, participating in key review meetings/ final document review, content sign off and document production. Experience of coordinating and updating a knowledge base system is beneficial.
Salary – negotiable based on experience
If you are interested in this position then please email your CV to  hr@simpsonyork.co.uk
Back to all news